The fourth week of the NFL season has passed and there were a lot of things to note about the matchups on Sunday. There were several stars in the league that shined and many that tremendously underwhelmed.
In the fourth edition of this series, I will look at which players dominated the fourth week of the season, and which ultimately disappointed their teams and fantasy owners. In a week Mitchell Trubisky played like Tom Brady and coach Gruden earned his first win, this was another crazy week in the NFL.
Studs
QB – Mitchell Trubisky
Mitchell Trubisky emerged from his prehistoric shell and carved through the Buccaneers horrid secondary. Trubisky was on pace to tie Peyton Manning and Nick Foles' record for seven passing touchdowns in a game after throwing five in the first half alone.
The former first-round pick from North Carolina finished with six passing touchdowns and over 350 yards passing. The Bears are currently leading the NFC North with the play from both their defense and the emergence of Trubisky.
With all this talk about Mahomes, Wentz and Goff being the next quarterback stars, Trubisky deserves some credit after his incredible performance.

RB – Ezekiel Elliott
The Cowboys offense finally got on track Sunday, gaining positive yards on the ground with their workhorse running back. Cowboys fans came into the game questioning whether Dak Prescott is the future of the franchise, and because of "Zeke's" performance, everybody can forget about Dak for a moment.
Elliott cruised for 152 yards rushing and reached the end zone after he turned a screen into a touchdown. The Cowboys are once again feeding off Elliott's excellent offense.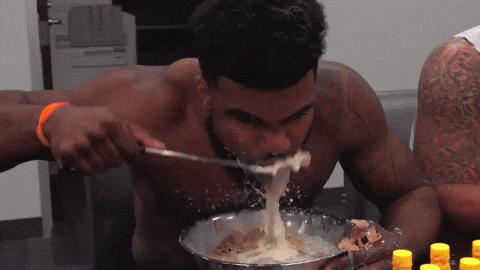 WR – Corey Davis
Who could have predicted that a player with zero career touchdowns entering last weekend would be the stud of the week for wide receiver? That all changed once he played the Eagles banged up secondary.
Corey Davis struggled to burst on to the scene in his rookie season last year, but he delivered the game-winning touchdown in overtime against Philly to push the Titans to 3-1.
Davis torched Eagles cornerback Jalen Mills several times while on his way to 161 yards receiving and that final touchdown. Here is a current picture of what Jalen Mills looks like after that performance.
https://twitter.com/Nelson81/status/1046950477823389696
TE – Jared Cook
Jared Cook is the first repeat player to make the stud list this season. Quite an honor for the veteran tight end to earn here at What the Sports.
Cook has emerged as Derek Carr's favorite target throughout the 2018 season as the two have developed a chemistry that has made Cook TE1 material for fantasy owners.
Cook hauled in eight catches and scored two touchdowns in the team's first win of the Gruden era. Look for Gruden to open up his playbook more and keep giving the tight end plenty of targets.
Duds
QB – Eli Manning
Oh, Eli. You have been a part of so many unbelievably hysterical memes and pictures throughout your career it is tough to put you this list. But when you only muster one touchdown and 255 yards against the Saints extremely underwhelming secondary, it is warranted.
Coming into the game, Manning looked to be a comfortable play for fantasy owners lacking a quarterback and looked to be the perfect game for an Odell Beckham Jr. breakout game. Neither of these two things happened and the Giants lost the game.
Being a Giants fan must be extremely difficult right now because they drafted a highly replaceable position in running back instead of one Sam Darnold. Well, at least Eli can bounce back.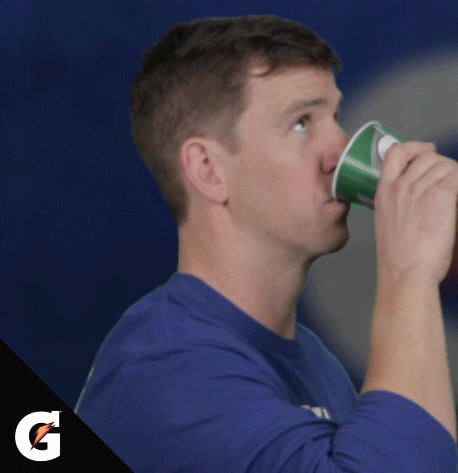 RB – Jordan Howard
Man, I would hate to be an owner of Jordan Howard in fantasy leagues right now. Usually when your team is ahead by 20-30 points, your No. 1 running back gets the ball. Instead, it seemed like everyone was rewarded, except Howard on Sunday.
Howard is by far having an extremely down year in an offense where Matt Nagy seemed to love running the football with young running backs (Kareem Hunt last season). Instead, the focus seems to be on the development of Trubisky.
If Howard does not pick it up, Tarik Cohen will continue to see his workload increase instead of the former Indiana Hoosier.
WR – Chris Hogan
Chris Hogan may have been the worst valued fantasy football player I have ever seen in my entire life. Hogan, who has been on this list before, continues to struggle in a Patriots offense with limited weapons right now.
Other than Hogan's respectable game against Jacksonville in Week 3, Hogan has only caught five passes for 77 yards and zero touchdowns.
Now with Edelman coming back, if you drafted Hogan high in your draft, you might as well say hello to last place in your league.
TE – Rob Gronkowski
In an off-season where Gronkowski was rumored to be possibly traded or retiring, drafting the tight end high in a fantasy draft was something many owners were hesitant on.
So far this season, Gronkowski has had trouble getting on the same page as his hall-of-fame quarterback in Brady. Like Hogan, Gronkowski has only shined in one week this season, but other than that, Gronk has been overvalued.
With both Hogan and Gronkowski on the dud list, it is somewhat surprising that the Patriots beat the Dolphins so easily. Then until we remember the Dolphins have Ryan Tannehill.