The NFL draft is one of the most important dates in creating a Super Bowl contender during the NFL offseason. Hundreds of players watch with their families as they wait to hear their names announced and their dreams of playing in the NFL come true. However, for some of these players, the dream smashes into a hard-lived short reality as they quickly become a bust for several reasons. While the situations may differ, one thing remains constant: all these players were unable to live up to the reputation of a first-round pick.
2007 – QB JaMarcus Russell, No. 1 Overall
JaMarcus Russell had scouts salivating at his athletic skill set that he showed while playing at LSU. In college, Russell went 21-4 as a starter and finished with 52 touchdowns to only 21 interceptions. He also won the Manning Award for best quarterback in the country after his junior season. Entering the 2007 draft, Russell was the surefire No.1 pick. With the Raiders in need of a franchise quarterback, it was a match made in heaven. This was until, he hit the field for the silver and black.
Russell struggled mightily to adjust to the NFL, throwing a modest 15 touchdowns and 12 interceptions in his first two seasons. The bust label started to amplify as Russell entered his third season weighing 305 pounds at Oakland's training camp. After an underwhelming third season, the Raiders decided the ex-LSU star was not a fit in their future, releasing the No. 1 pick after just three seasons. The now 32-year-old has not been in the NFL since that release and will go down as one of the biggest busts of all-time.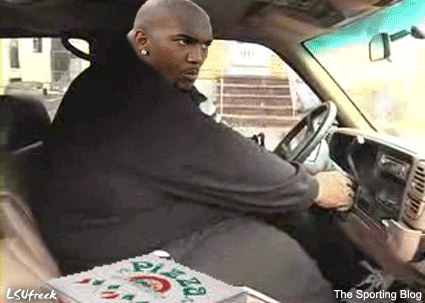 2008 – DE Vernon Gholston, No. 6 overall
Selecting a lineman with a top-10 pick is never a sexy option when it comes to pleasing your fans, but Gholston made the sense for the Jets. Gholston went to Ohio State and had a knack for rushing the quarterback. In his junior and senior seasons, he racked up 22.5 sacks, which led him to receiving First Team All-Big Ten honors and winning defensive lineman of the year. At the combine, the Buckeye improved his stock dramatically by tying the combine-high of 37 reps on the bench press to show he had the strength to take on NFL offensive tackles.
In the NFL, however, the Jets never saw this strength and pass rushing ability. Gholston only played for three seasons, starting in a combined five games. During that time, he did not receive credit for a single sack while wearing a New York Jets uniform.
2009 – OT Jason Smith, No. 2 Overall
No, not the Jason Smith that plays for the Washington Wizards, the Jason Smith that was a huge bust for the St. Louis Rams in 2009. Smith played his college ball at Baylor and was the first player from the college to be selected in the first-round since 1996. Smith was an All-Big 12 selection and the team's co-MVP his senior season. He seemed like a team-oriented player and a guy the Rams could build around.
Unfortunately for Smith, his first season in the NFL was cut short due to a severe concussion. The following season, he was unable to redeem himself after losing his job as a starting tackle. The former Baylor Bear only finished four seasons in the NFL, starting in just 26 games.
2010 – QB Tim Tebow, No. 25 overall
The 2010 draft was relatively anti-bust compared to some of the other years. Having said that, Tim Tebow still makes this list. In college, Tebow had some of the best numbers for a quarterback we've seen in decades. A Heisman trophy winner, two-time national champion and a two-time all-American while playing under Urban Meyer at the University of Florida, the left-handed QB had speed, strength and agility, but one thing that he lacked was his arm talent.
Tebow was selected by the Denver Broncos late in the first round and was slated to backup free agent addition Kyle Orton. During his second season, he was finally given his opportunity. "Tebow Time" struck the country by storm as the lefty took the Broncos to the second round of the playoffs after a thrilling overtime victory over the Steelers. However, Tebow's arm was the real problem, as his throwing motion and completion percentage were two weaknesses that plagued him in the NFL.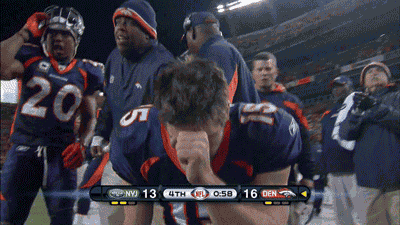 After a trade to the Jets the following offseason, Tebow never found his rhythm, and he failed miserably as a wildcat quarterback. His career of just three seasons ended when he was cut by the Eagles. At least he is enjoying himself hitting dingers for the Binghamton Rumble Ponies in the Double-A.
2011 – QB Jake Locker, No. 8 Overall
Unlike the 2010 draft class, the 2011 class had many players that can be labeled busts. Locker's collegiate career was not as outstanding as past busts like Tebow or Russell, but he was thought of as not just a top-10 pick, but the No. 1 selection in the draft.
Leading up to the NFL draft, some scouts had Locker extremely high and some had him falling towards the later part of the second round. The Tennessee Titans eventually selected Locker with the eighth pick to sit under veteran Matt Hasselbeck and learn ways of the NFL. When it became his time to shine, things did not go well. During his four-year career, Locker threw only 27 touchdowns and 22 interceptions, compiling a record of 9-14 while dealing with numerous injuries. Unable to live up to the hype, he joins many other quarterbacks in the the world of busts.
2012 – QB Brandon Weeden, No. 22 Overall
Robert Griffin III was also highly considered for this spot, but Weeden's age and the fact that Cleveland picked him made for a bigger bust. Weeden was the oldest player to ever get drafted in the first-round of the NFL Draft at 28-years-old, six or seven years past when most hear their name called.
Weeden had success while playing at Oklahoma State with his outstanding collegiate receiver (and bust) Justin Blackmon. In college, he set school-records in passing yards, completed passes and completion percentage. In the NFL, Weeden has put up an abysmal 31 touchdowns and 30 interceptions with a 6-19 record. The funniest part about this pick is that six years later, the Browns still haven't found their franchise quarterback.
2013 – CB Dee Milliner, No. 9 Overall
Dee Milliner was one of my personal favorite players coming out of college. He had tremendous speed, running a 4.37 40-yard dash, and was a ball-hawking cornerback that every team could use. His only weakness, staying healthy.
After dominating the 2012 season with Alabama, Milliner was ranked as a top-five player in the draft. But, a torn labrum limited his combine. He was picked with the ninth selection by the Jets and looked like a possible steal.
Milliner struggled in his first season and was benched several times, struggling to keep up with the speed of NFL receivers. He then suffered a torn achilles in his second season and was eventually cut by the Jets a year later, finishing his four-year NFL career with 14 starts and only 3 interceptions.
2014 – CB Justin Gilbert, No. 8 overall
As an Eagles fan, I almost felt obliged to put Marcus Smith on this list, but I decided to stick with Gilbert because Smith is still in the league. The second Cleveland Brown bust on this list was a standout cornerback for Oklahoma State from  2011 to 2013. Gilbert was a unanimous All-American and a Jim Thorpe Award finalist for the Cowboys in 2013
Gilbert came into the league being known for his speed, with a blazing 4.35 40-yard-dash time at the combine. That 40 may have been the highlight of Gilbert's career, however, as it was all downhill from there. Gilbert only started three total games for the Browns and only recorded one interception.
After realizing the mistake that they made, the Browns dealt Gilbert to the Steelers for a sixth round pick. Pittsburgh, hoping they could revive the bust's career, were unable to find a niche for him and Gilbert ended up playing his last game in 2016. To make matters worse, Gilbert was recently suspended for a full year for violating the league's substance abuse policy.
2015 – WR Kevin White, #7 overall
If any of the players on this list are made of glass bones and paper skin, it's Kevin White. Coming into the draft, White and Amari Cooper were being mentioned in the same sentence.             Playing in the Big 12, White took advantage of the conference's awful defenses by hauling in 15 touchdowns and almost 2,000 receiving yards. Add in a 4.35 40-yard time and people were salivating over the Mountaineer. Still, White has been unable to be a difference maker in the NFL due to his injury history.
During his first NFL training camp, White injured his shin and was unable to hit the field during training camp. Shortly after returning, he fractured his shin, which required surgery and put his season in jeopardy. In his second season, White played in only four games before fracturing his fibula, ending that season as well. In his third campaign, White's bad luck continued as he fractured his shoulder blade in the season opener against the Falcons. Even though White's injuries have not been his fault, he has not lived up to his expectations.
2016 – CB Eli Apple, No. 10 Overall
Eli Apple's bust label increased dramatically throughout the 2017-2018 NFL season because of his problems in the locker room. Coming from Ohio State, where cornerbacks Malcolm Jenkins, Marshon Lattimore and Bradley Roby have had immediate NFL success, Apple was expected to fit right in and solidify a Giants secondary that included Landon Collins and Janoris Jenkins.
Apple and Collins did not become a dynamic duo in the secondary and instead argued at many points throughout the season. Collins and other teammates called Apple a "locker room cancer" and questioned his effort on the football field. He was also caught tweeting during one of the Giants games this season. Listen Eli, if you want to follow @realwtsports, you do not have to tweet about it during the game, just do it.
2017 – LB Reuben Foster, No. 31 Overall
Entering the draft, Reuben Foster was my favorite player in the class. While at Alabama, Foster showed tremendous speed and a type of nasty that reminded me of old-school linebackers in the NFL. John Lynch and the 49ers thought they were getting a steal as the best linebacker in the draft slid to the edge of the first round, finally finding a home in San Francisco.
The problem with Foster is he cannot stay out of trouble off the field. It was reported at the combine that Foster failed a drug test for a diluted sample and was involved in a confrontation with a medical worker.
While in the NFL, Foster has been arrested for possession of marijuana, suspicion of domestic violence and possession of an assault weapon. These continued issues off the field have prompted John Lynch to consider releasing the linebacker before he even plays his second season, making Reuben Foster an expected bust.
Lets see which one of this year's day one prospects will be the biggest bust of the class of 2018.